Saturday, February 2, 2013
Will Breazeale leaves tragic trail of domestic turmoil through decade of court records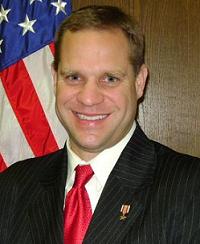 Troubled former candidate Will Breazeale back in the news -- this time in South Carolina!
By Verne Strickland / Politics /FEBRUARY 2, 2013
Will Breazeale is a candidate who is waging a spirited battle in the Republican primary for North Carolina's Seventh Congressional District. I've gotten to know him over the past couple of months and I like him.
But Will is dragging around an anchor which will eventually take him down. He has a rap sheet that winds through a succession of serious scrapes with the law in Georgia and in North Carolina. A personal bankruptcy filing is recorded in South Carolina.
This bulky collection of court records about Will Breazeale weighs over five pounds. It is 2 ½ inches thick. The time line stretches over a decade, and it's ugly. I've seen it. It will not hide or go away.
I
t's not exactly common knowledge that this incriminating file exists. But many seem to know about it. It's a volcano ready to erupt.
These papers are on public file at the Bladen County Courthouse in Elizabethtown, NC. Both civil actions and criminal proceedings are cited there. They chronicle a lurid personal history which includes references to intimidation, aggravated stalking, criminal trespass, larceny, threats of suicide, and even threats of murder directed by Breazeale at members of his own family.
Most of the incidents described are linked to his stormy relationship with his wife, from whom he is now divorced. The couple had one child.
Only one of these entries is offered here. It is the verbatim text of an official police report describing events said to have taken place on January 6, 1995, in Georgia.
The "complainant" is identified as Mr. Breazeale's former mother-in-law. The "offender" is identified as William James Breazeale. The report was typed in all capital letters:
"COMPLAINANT STATED THAT OFFENDER SAID, 'I'LL BLOW YOUR FxxxxxG HEAD OFF.' AND COMPLAINANT STATED THAT ANOTHER STATEMENT THE OFFENDER MADE WAS 'I'LL SHOOT EVERY DAMN ONE OF YOU AND AIN'T NOBODY GOING TO STOP ME.' COMPLAINANT STATED THAT OFFENDER HAS CALLED HER DAUGHTER AT HER HOME TWO WEEKS AGO AND MADE THREATS TO HER DAUGHER (HIS EX-WIFE CHERYL BREAZEALE). COMPLAINANT ALSO STATED THAT OFFENDER HAS BEEN CALLING HER DAUGHTER (HIS EX-WIFE CHERYL BREAZEALE) AT HER JOB IN BRUNSWICK, GA. AND THAT HER DAUGHTER HAS FILED CHARGES ON OFFENDER WITH THE BRUNSWICK P.D. (on) THIS DATE FOR STALKING AND TERRORISTIC THREATS AND PLAN TO TAKE OUT A RESTRAINING ORDER ON OFFENDER. COMPLAINANT ADVISED THAT SOMEONE HAD CUT THE LOCK TO HER ELECTRICAL BOX OUTSIDE AND CUT HER LIGHTS OFF LAST FRIDAY 01/06/95. AND SHE BELIEVES THAT IT WAS THE OFFENDER. BECAUSE HE WAS ON THE PHONE. SHE STATED TO HIM 'YOU THINK YOUR FUNNY BY WHAT YOU'VE DONE WITH THE ELECTRICITY AND SCARING YOUR DAUGHER' AND HE STATED 'I CAN BE ANYWHERE AT ANY TIME'. COMPLAINANT STATED THAT OFFENDER HAS A PILOTS LICENSE AND FLIES DOWN HERE AND RENTS CARS. SO SHE'S REALLY AFRAID. BECAUSE SHE DOESN'T KNOW WHEN HE'LL BE AROUND OR WHAT HE'S DRIVING IN. COMPLAINANT ALSO ADVISED THAT THERE IS A COURT ORDER STATING THAT OFFENDER IS REFRAIN FROM ANY HARASSMENT OF HER DAUGHTER AND THAT SHE BELIEVES OFFENDER HAS ACTIVE WARRANTS AGAINST HIM IN NORTH CAROLINA."
There's more, so much more, but this is more than enough. I don't care to add anything else to this searing personal litany of despair.
It might be worthy of note that Ilario Pantano, the only other viable candidate in this primary, has been relentlessly taunted by the Breazeale camp, which mocks the exoneration accorded the young Marine officer in official Article 32 proceedings.
In my interview with Will Breazeale in the early days of this primary, he said: "Since the Marine general in their version of the grand jury indictment -- I think it's called an Article 32 hearing -- chose not to prosecute him, he is innocent of criminal wrongdoing. I back him up on that."
But there has been little evidence of this magnanimous gesture in public debates and other campaign settings. Strange that this lack of compassion and fairness toward a fellow member of the U.S. military should backfire like this.
Meanwhile, Ilario Pantano, who vowed to run a clean and honorable race, has held his tongue when the insults fly, and set an excellent example of how to live one's beliefs.
***************************************
Look for a startling follow-up on Verne Strickland's blog as the Breazeale battleground shifts to Charleston, South Carolina.