Verne Strickland / USA DOT COM BLOGMASTER
I DON'T THINK MADONNA KNOWS MANY WORDS, DO YOU? NO, MIA'S OBSCENE STUNT WAS VERY RELEVANT. JUST DIRTY, COURSE, UGLY, AND TYPICAL.



Madonna has taken to the airwaves to express her disappointment with M.I.A.'s decision to flip the bird at cameras during the halftime show, calling the move a "teenager ... irrelevant thing to do." Madge was chatting with Ryan Seacrest about her performance when he brought up the incident.
To the pop star, the middle finger was simply "out of place" at a show characterized by "such a feeling of love and good energy and positivity."
The
halftime show
also featured Cee Lo Green, LMFAO and Nicki Minaj in a ensemble performance of some of the pop queen's biggest hits and a new single, "Give Me All Your Luvin.'"
Madonna recently made headlines by
announcing a world tour
in support of her upcoming album,
MDNA
.
TMZ also reports Madge also called into Carson Daly's show and said M.I.A. has apologized to her.
The halftime show was viewed by well over 100 million people.
Reactions to the incident varied from bemused to enraged, and NBC and the NFL both condemned M.I.A. (and blamed each other for the fact that censors didn't block her middle finger).
For the soundbite, head over to
TMZ
.
NONE OF THESE TACKY TARTS DESERVE FREE REIN ON A SUPER BOWL STAGE. IF THE HALFTIME FARE DOESN'T CLASS UP, IT'S TIME TO LAY DOWN SOME RULES -- AND STICK TO THEM. I'M SICK OF THIS STUFF. I AM YOUR HUMBLE SERVANT. VERNE.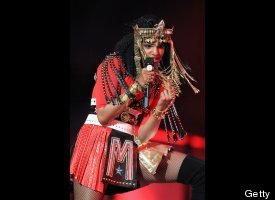 100 million fans get bird