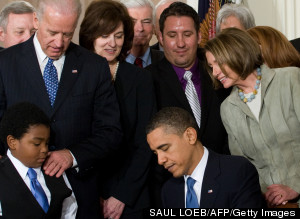 By Verne Strickland / March 2, 2012 I spotted this post on a site developed by a patriotic, conservative internet friend -- Craig Hawker of Waterloo, Iowa. I decided to check into it, and discovered

"secret"

revelations about the health care monstrosity known as Obamacare -- now the law of the land.
Looking through the annotated material, I derived a chilling and candid picture of how President Obama regards "his America." It is like a scene from a horror movie. Especially to a guy like me. I will be 76 years of age on March 11, 2013. I have bone cancer.
This original spadework was done by Judge David Kithil
This is the fine print of "the bill nobody ever read." Texas Judge on Obama's Fascist Health Care Bill!
Take heed folks, the government just took over 1/6th of the U. S. Economy through Illegal, Unconstitutional and Incestuous ways! Other goals such as nationalizing the banks, automobile manufacturing and farming is Childs play. Squelching "free speech by the opposition", no problem! Granting citizenship to 20 million Illegal's, too easy and then they get their votes! –Larry
Honorable Judge David Kithil
Marble Falls , Texas
At age 76 when you most need it, you are not eligible for cancer treatment What Nancy Pelosi didn't want us to know until after the healthcare bill was passed. Remember she said, "pass it and then read it!!." Here it is!

Obama Care Highlighted by Page Number

THE CARE BILL HB 3200 -- JUDGE KITHIL IS THE 2ND OFFICIAL WHO HAS OUTLINED THESE PARTS OF THE CARE BILL.

Judge Kithil of Marble Falls, TX - highlighted the most egregious pages of HB3200 Please read this........ especially the reference to pages 58 & 59 JUDGE KITHIL wrote:

** Page 50/section 152: The bill will provide insurance to all non-U.S. residents, even if they are here illegally.

** Page 58 and 59: The government will have real-time access to an individual's bank account and will have the authority to make electronic fund transfers from those accounts.

** Page 65/section 164: The plan will be subsidized (by the government) for all union members, union retirees and for community organizations (such as the Association of Community Organizations for Reform Now - ACORN).

** Page 203/line 14-15: The tax imposed under this section will not be treated as a tax. (How could anybody in their right mind come up with that?)

** Page 241 and 253: Doctors will all be paid the same regardless of specialty, and the government will set all doctors' fees. ** Page 272. section 1145: Cancer hospital will ration care according to the patient's age.

** Page 317 and 321: The government will impose a prohibition on hospital expansion; however, communities may petition for an exception.

** Page 425, line 4-12: The government mandates advance-care planning consultations. Those on Social Security will be required to attend an "end-of-life planning" seminar every five years. (Death counseling..)

** Page 429, line 13-25: The government will specify which doctors can write an end-of-life order. HAD ENOUGH????


Judge Kithil then goes on to identify: "Finally, it is specifically stated that this bill will not apply to members of Congress. Members of Congress are already exempt from the Social Security system, and have a well-funded private plan that covers their retirement needs. If they were on our Social Security plan, I believe they would find a very quick 'fix' to make the plan financially sound for their future." - Honorable David Kithil of Marble Falls, Texas.

All of the above should give you the ammo you need to support your opposition to Obamacare. Please send this information on to all of your email contacts.



AND SO, FRIENDS, THIS IS A PICTURE OF OUR FUTURE. IF YOU ARE 76, AND HAVE CANCER AS I DO, IT'S EVEN WORSE. THIS IS A PICTURE OF OUR TOMORROW!

HOW DID WE LET IT COME TO THIS? BARACK OBAMA HAS READ ADOLF HITLER'S BOOK -- AND IS FASHIONING HIS OWN "MASTER RACE".

ON ONE END OF LIFE'S SPECTRUM, HE CLAIMS THE "RIGHT" TO MURDER UNBORN BABIES. NOW, LIKE A ROMAN EMPEROR, HE DECIDES HOW LONG EACH OF US WILL SURVIVE.

VERNE