via Verne Strickland usadotcom
Mitch McConnell beat Democrat Alison Lundergan Grimes in Kentucky
updated 8:32 PM EST, Tue November 4, 2014
Washington (CNN)
-- Republicans are moving closer to winning the Senate by picking up Democratic-held seats in West Virginia and Arkansas, according to CNN projections.
They GOP now needs a net gain of four seats to claim the Senate for the first time since the administration of George W. Bush. A GOP win would mark a rebuke for President Barack Obama and could set the ideological battle lines for the 2016 presidential election.
CNN projection: Sen. McConnell re-elected
Obama: Worst group of states for Dems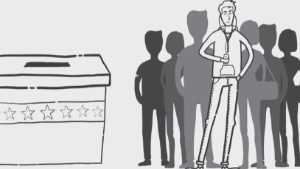 Millennials & Midterms
In an early ominous sign for Democrats, Mitch McConnell, the Senate Republican leader, swiftly dispatched challenger Alison Lundergan Grimes in his re-election race. CNN projected the result as soon as polls were closed in Kentucky, in a dramatic early start to what could be a long Election Night.
Meanwhile in Florida, tension is building around the tightly contested governor's race. A judge denied a request from Democrat Charlie Crist to extend voting in Broward County by two hours because of several breakdowns in voting systems according to a spokesperson for the Florida Secretary of State.
Crist is seeking to unseat Republican Gov. Rick Scott in one of the most competitive gubernatorial races in the country.
The battle for the key Senate races is also hotting up.
In Georgia, exit polls show that the race is on a knife edge between Republican David Perdue and Democrat Michelle Nunn, who is looking to complicate the GOP's path to a Senate victory by turning a red state blue.
In Virginia, meanwhile, incumbent Democrat Sen. Mark Warner is having a tougher ride than expected against Republican challenger Ed Gillispie in a state Democrats had thought was reliably theirs after Obama won it twice.
No one had believed going into the election that the state would be in play.
In North Carolina, according to exit polls, Democratic Sen. Kay Hagan has a slim lead over Republican challenger Thom Tillis. A Hagan win, after the most expensive Senate race in history, would boost Democrats in a state shaping up as a genuine battleground in 2016.
Exit polls
The first wave of exit polls analyzed by CNN Tuesday evening show dissatisfaction with the president's administration. Roughly six in ten voters are either angry or dissatisfied with Obama, though about the same proportion feel the same way about Republican leaders in Congress. And most voters have an unfavorable view of both parties.
The data also reveals a fearful electorate. Seven in ten voters are somewhat or very worried about a terrorist attack on US soil while 50 percent disapprove of the federal government's response to the Ebola crisis.
Exit poll data also showed fierce contests in two of the closest Senate battles in North Carolina and Georgia. In North Carolina, according to exit polls, Democrat Sen. Kay Hagan has a slim lead over Republican challenger Thom Tillis.
Problems at the polls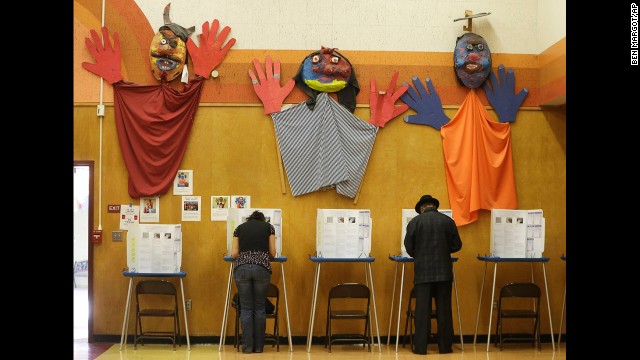 Photos: The places America votes
There were some hiccups across the country as Americans went to the polls.
Some people in Alaska were voting by flashlight after a power outage and those in Maine had to cope with a winter storm that prompted a state of emergency. In Georgia, home to a competitive Senate and governor's race, a state website listing polling locations went down though the secretary of state said there weren't any voter irregularities there. Connecticut Gov. Dan Malloy sought to extend voting hours after problems were reported at Hartford polling stations.
All eyes this evening will be on seats currently held by Democrats that Republicans need to capture to flip the Senate, including in Iowa, New Hampshire, North Carolina, Colorado and Alaska.
There could be many tension-packed hours before the fate of the Senate is decided. In Alaska, for example, where Democratic Sen. Mark Begich is in a tight race, polls will not close until 1 a.m. on the East Coast.
Close races
Run-off elections, meanwhile, will be needed in Georgia and Louisiana if no candidate gets to the 50% threshold. That means that if things remain tight, the fate of the Senate could be in limbo for weeks.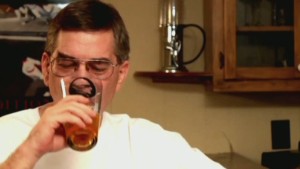 Who are the midterm spoilers?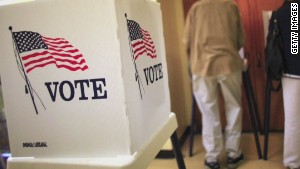 What happens once the votes are counted?
Final polls in the decisive states showed Republican Joni Ernst in a dead heat in Iowa with Democrat Bruce Braley — although one Des Moines Register survey over the weekend electrified Republicans by putting her up seven points.
Ernst wrapped up her final 24-hour campaign swing Tuesday morning in her hometown of Red Oak. Her campaign spokeswoman said the Iraq war veteran was "anxious" but confident.
In Colorado, which like Iowa, Obama won twice, Democratic incumbent Sen. Mark Udall is behind after apparently failing to define his GOP opponent, Cory Gardner, as an enemy of young women.
In New Hampshire, Democratic incumbent Jeanne Shaheen is in a dead heat with Republican challenger Scott Brown.
Republicans are also sweating the race in Kansas, where a stumbling re-election bid by Sen. Pat Roberts risks being overtaken by independent Greg Orman. Orman hasn't said which party he would caucus with in Washington and his win could set the GOP back in its bid to win a majority.
But Republicans seized on a comment by Biden in a radio interview that Orman will "be with us," prompting an Orman spokesman to tell CNN his boss had never even met the vice president, and would go to Washington as an Independent.
Beyond West Virginia, Senate races in Montana and South Dakota are considered Republican locks.
Governor's race
Several key governor's races are also being decided on Tuesday.
In Pennsylvania, Democrat Tom Wolf unseated Republican Gov. Tom Corbett in a marquee race. In Kansas, Gov. Sam Brownback is in danger of losing amid a backlash against his hard core conservatism. And liberal Massachusetts could elect a Republican governor.
CNN's Miguel Marquez, Nick Valencia, Paul Vercammen, Mary Kay Mallonnee and Ashley Killough contributed to this story.