Verne Strickland Blogmaster / June 24, 2011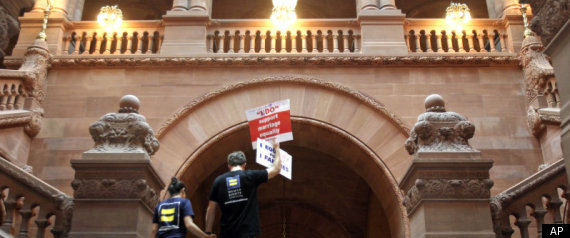 Gay couples and proponents of gay rights have a reason to celebrate tonight, as the New York State Senate has passed a bill that allows same sex marriage.
New York will be the sixth, and largest, state in the union to adopt gay marriage. The bill will take effect 30 days after governor Andrew Cuomo signs it into law.
The decision, which passed 33-29, was the culmination of
weeks of contentious debate
and negotiations between Governor Cuomo and the GOP-controlled Senate. After the
bill passed in the Assembly
, it was unclear if the bill had secured enough votes to pass in the Senate.
When a few notable undecideds joined the cause --including Republican Roy McDonald who famously defended his decision, saying "fxxk it, I don't care what you think. I'm trying to do the right thing" -- the scale in favor of gay marriage seemed to tip.
Even when
governor Cuomo had secured 31 votes
(32 are needed to pass the bill), the next hurdle was whether Senate Majority Leader Dean Skelos would allow the bill to come to a vote on the Senate floor. But on Friday, after days of crafting religious protections into the bill, and seven hours of
GOP leaders' backroom conferencing
, Skelos said the bill
could come to a vote
.
The turning point in the debate came early when Republican Senator Stephen Saland threw his support behind the measure, being the 32nd senator to do so, clinching the support needed to pass the bill. "I have to define doing the right thing as treating all persons with equality," Senator Saland said, "I certainly am at peace with my vote."
http://www.huffingtonpost.com/2011/06/24/gay-marriage-legalized-new-york_n_884434.html?icid=maing-grid7|main5|dl1|sec1_lnk3|73113